Season 2019: NC Spin
Tom Campbell hosts NC Spin, a weekly program that focuses on the policies and politics that currently grab the headlines. He's joined by a panel of VIP guests who share their insight and analysis. NC Spin airs on UNC-TV and The North Carolina Channel.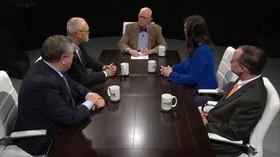 This week on NC Spin the panel talk about Carol Folt's resignation & NC's reading program.